We were inspired to work on OrganizermaX, because of few things that bothered us for years with the native file manager on mac. Finder has been missing out on multiple features, and these feature requests in wish list were growing year by year, with every new release of a macOS update.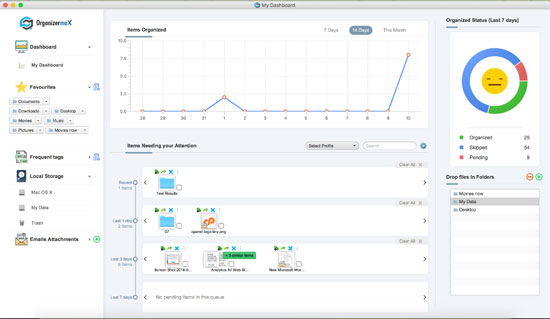 We decided to work on an app from the ground up that would complete whats missing from Finder, entirely from scratch. We zeroed down on areas which were adding most of the stress for users, ie. File Copy, File tagging, File movement, frequently used folders, frequently used files, newly generated files & folders. Just the perfect recipe you need, to add up digital chaos and stress in your life. A proper file management app should already handle these challenges for the users.
OrganizermaX takes care of the digital chaos and stress by processing 80% of the tasks which require your attention and time on a daily basis and presenting them in queues for you in bits via a neatly designed dashboard. So, you don't feel stressed and can attend to these at your convenience, either by taking a look at specific intervals or give 15 minutes at the end of the day.
As per the laws of design heuristics, any software that induces interruptions, induces a feeling of being overwhelmed, does not share positive feedback, is too complicated to use; adds tons of stress on the psychological level. We took extreme care to design the User interface in a way to ensure all these factors were taken care of and the app reduced stress for the users. Please read along the features that make it possible and make for a better stress-free file management process for our users.